Clothings
Likhawat offers the opportunity to brighten up your possessions with art and customisation. If you're a literature fanatic, imagine wearing your favourite verses adorned on your sleeve! There are no boundaries on language or content. We've expanded our range to be able to calligraph in 9 languages including Hindi, Urdu, Persian, Bangla, Gurmukhi, English, French, Marathi and Gujrati. As displayed in the pictures, each article is accompanied with artworks in a range of colours that add a personal touch and an edge of glory to each of them.
Sarees
We offer to customise a Saree with your choice of illustration and text on it. You can choose from several languages, namely- Hindi, Persian, Urdu, English, Gurmukhi, Bangla, Marathi, Gujarati, Sanskrit & French. It could be lyrics of a song that resonate with you or an unforgettable quote. It could be the words of a friend or family member or simply something meaningful you read. They would add a fascinating look, as they would be hand-inscribed on your saree. If you already own a saree that you would like to enhance, you could provide us with that too. It would be a definite means of embellishing your ensemble perfectly.
Read More
Stoles
Astole is the perfect drape to layer an outfit. Accentuate your looks by making your outfit exceptionally yours. Packed with your essence, adding a dash of colour, texture and your favourite words will make it your go-to accessory.
Read More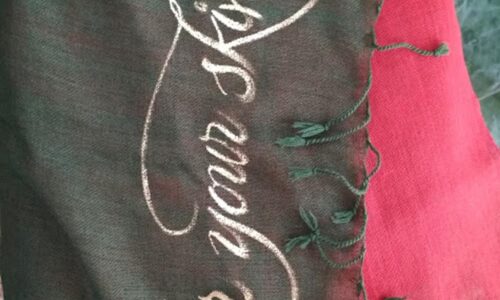 Men's Clothing
Be it Mirza Ghalib's extraordinary poetry on your kurta or the lyrics of your favourite 90's song on your shirt, you'll stand out in a crowd of men if you're wearing your heart on your sleeve, at the same time it can be as quiet as you prefer, suiting your personality type. Uniquely customised to match your personality, this apparel will brighten up your look and highlight your passionate side.
Read More
Scarves Printed
W\The original artwork is done at Likhawat Designs; Then printed on pure crepe silk. Artwork varies with themes from poetry to nature and romance! Vibrant and Colourful to set a positive & stylishly upbeat tone for the day! 
Wash care instructions-Dry clean only.
Read More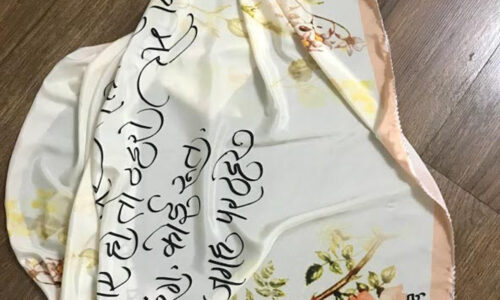 Canvas
At Likhawat, art is sacrosanct, thus, unique. Adorned with Mantras, Dohas, Shlokas, Poetry or just Abstract, our canvases push the boundaries of conventional art and lend themselves to be uniquely standing in your official or personal spaces. These, particular kind of artworks leave an optimistic sheen on your mind and are inspirational in nature. They can convey the message in a way that leaves a lasting impression and the message is retained due to the form and colours. Now, Art is communication and that's how it should lend itself!
Read More
Apart from conventional products, at Likhawat, we believe in broadening the horizons of creativity in all spheres. Every day brings new opportunities to create beyond the mainstream. We embody the art and help share it across any platform we're given. From painting ornate murals and quotations on vast stretches of walls, to simply embellishing initials on a handkerchief, or even dashing up a car with a quote, art cannot be contained, which makes our scope, essentially, endless.