We offer a wide selection of personalised accessories ranging from scarves, cravats, caps to umbrellas. These supplements will add splendour to your look. Since they are so deeply personal, you are bound to highlight aspects of your personality that people will take notice!
Shoes
Shoes: These funky pair of sneakers will ginger up your look multifold. Personalised words on shoes are the offbeat concept that will definitely sharpen your appearance and never fail to attract all the attention. Get one now, service available on request.
Read More
Tote Bags
Tote Bags: Thick canvas material . Sustainable and fashionable, Likhawat Designs brings you this product – it is interfused with plant material due to the nature of the material. Printed original artworks by Likhawat Designs . No fuss on maintenance- regular machine wash, dry inside out.
Read More
Beach Wear
Beach wear: The time one spends on a holiday is so personal, Me-time! For you to live in that particular moment, get a sarong or a poncho designed to your specification. Whatever is your song, poem, melody, chirruping – literally live in it! More designs are available on request. Service also available on request.
Read More
Masks
Masks: Likhawat offers luxury cotton masks, for long-wear comfort. Luxury spells out in Calligraphy, illustrations & hand-embroidery. You even have a choice of requesting one, with exactly what you want on it!
Read More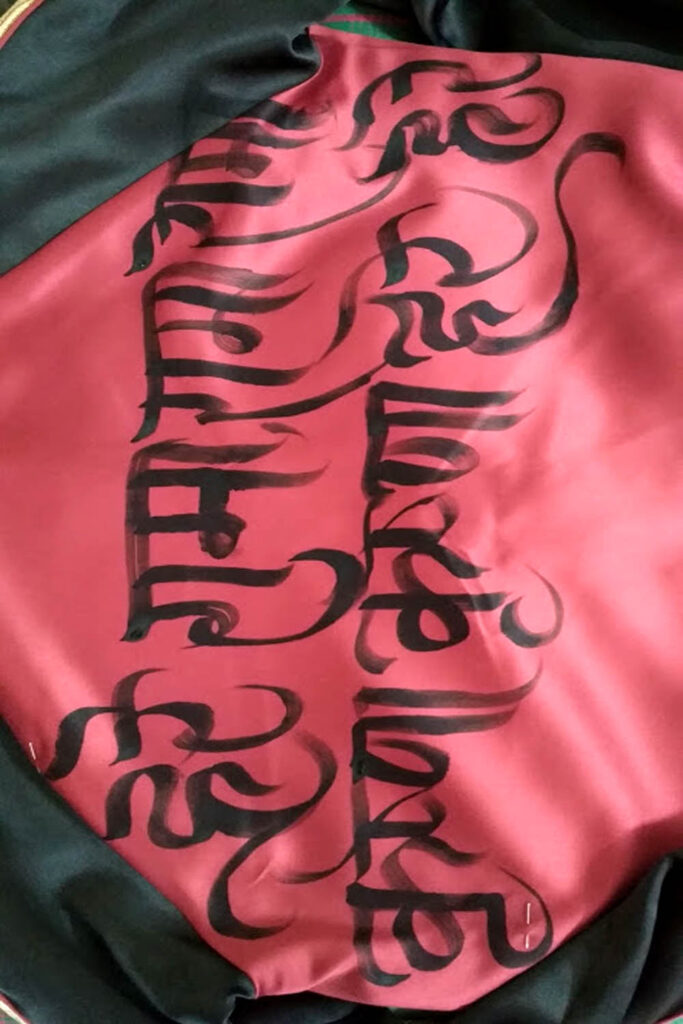 T-Shirts
T-shirts: Whether you love funky abstracts or poetry/songs on your favourite live-in Tee, give us a chance to customise it to the T! Service available on request.
Read More
Ceramic Jewellery
Ceramic Jewellery: If you can't find what you want, obtain plain ear-rings/pendants in ceramic listing, get it personalised and enjoy wearing "that thing" of your obsession! Service available on request.
Read More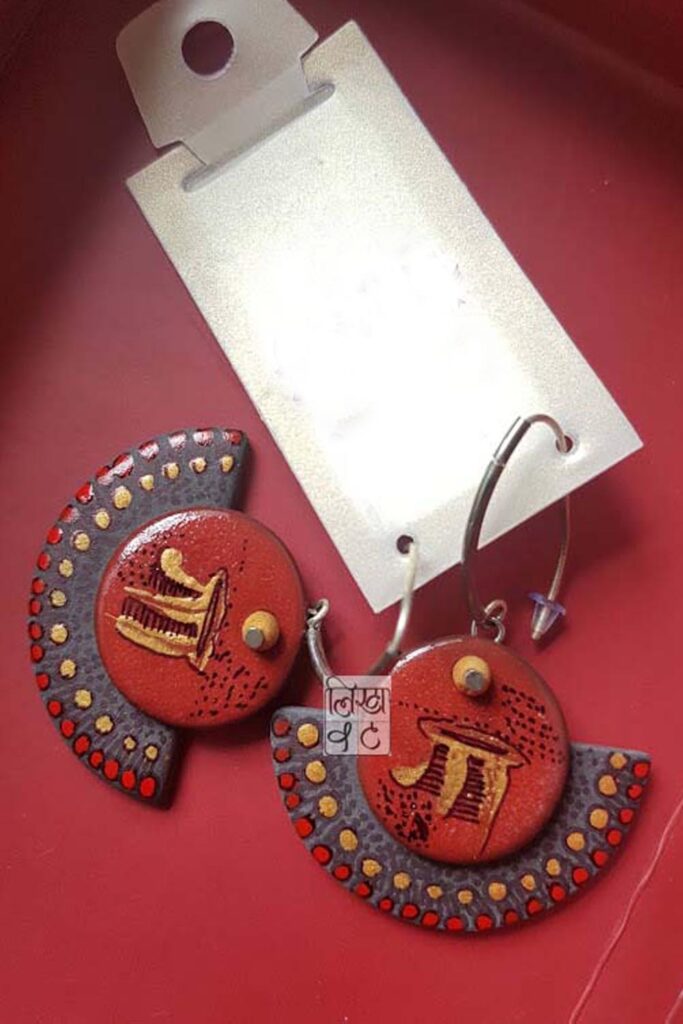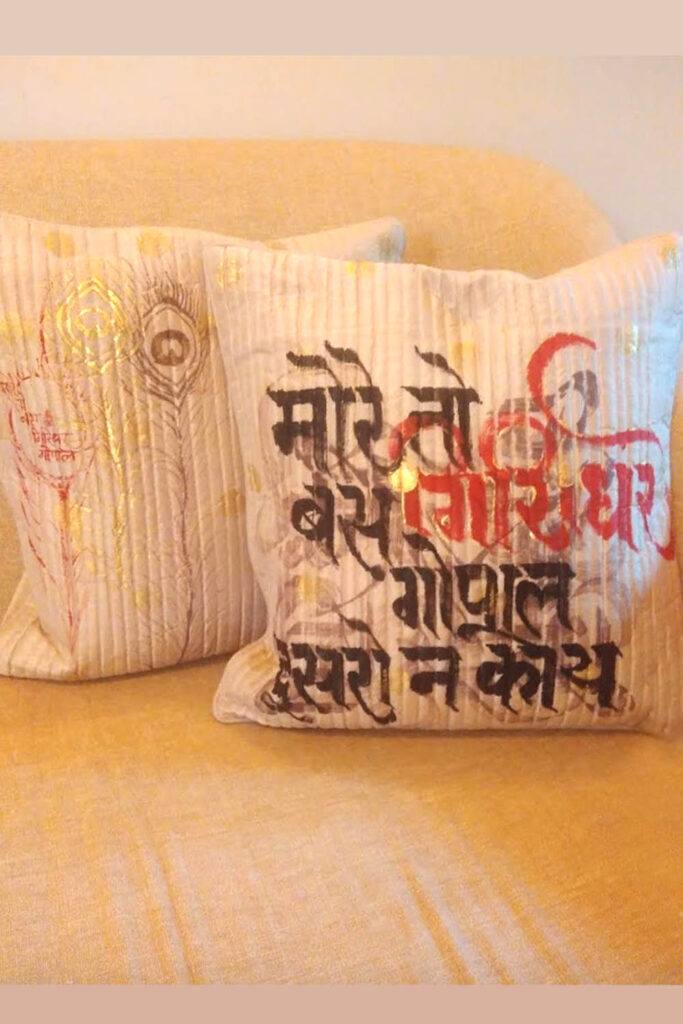 Cushion Covers
Cushion Covers: We can feature abstract or theme painting, with or without Calligraphy, on plain cushion covers. Service available on request.
Read More
Umbrellas
Umbrellas: Trying to escape rain, sun or peeps, get this eye-catching accessory, enhanced by painting in detail. Service available on request.
Read More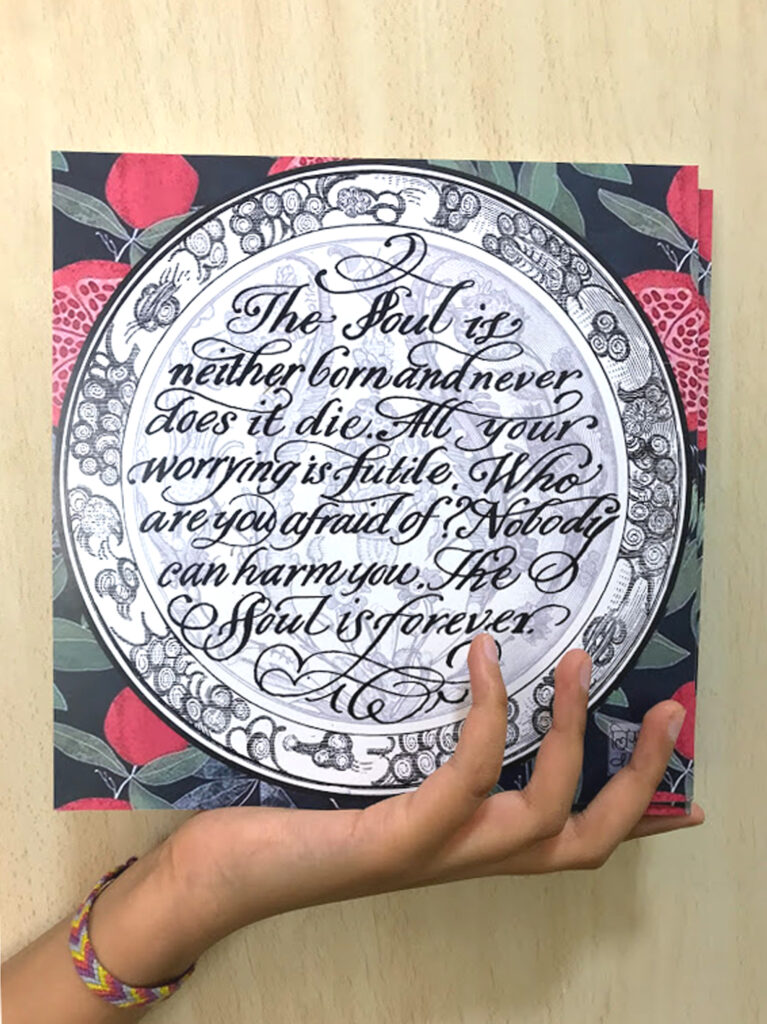 Geeta Saar
Geeta Saar: During these painful times that we are faced with  today, this table-top gift item which carries the essence of Holy Bhagavad-gita "Gita Saar", in Hindi as well as in English , held by aesthetically designed hand made wooden holder, made in pine wood regards it to be a very meaningful gift for your loved ones. 
The significance of the scripture is to help us to get out of the cycle of birth and death. 
It is said that, anyone who recites Bhagavad-gita with devotion will go to the spiritual world at the time of death. 
If one reads Bhagavad-gita sincerely the reaction of one's past deeds will not act upon one.
Pure Crepe-silk scarves
Pure Crepe-silk scarves: The original artwork is done at Likhawat Designs; Then printed on pure crepe silk. Artwork varies with themes from poetry to nature and romance! Vibrant and Colourful to set a positive & stylishly upbeat tone for the day! 
Wash care instructions-Dry clean only.
Read More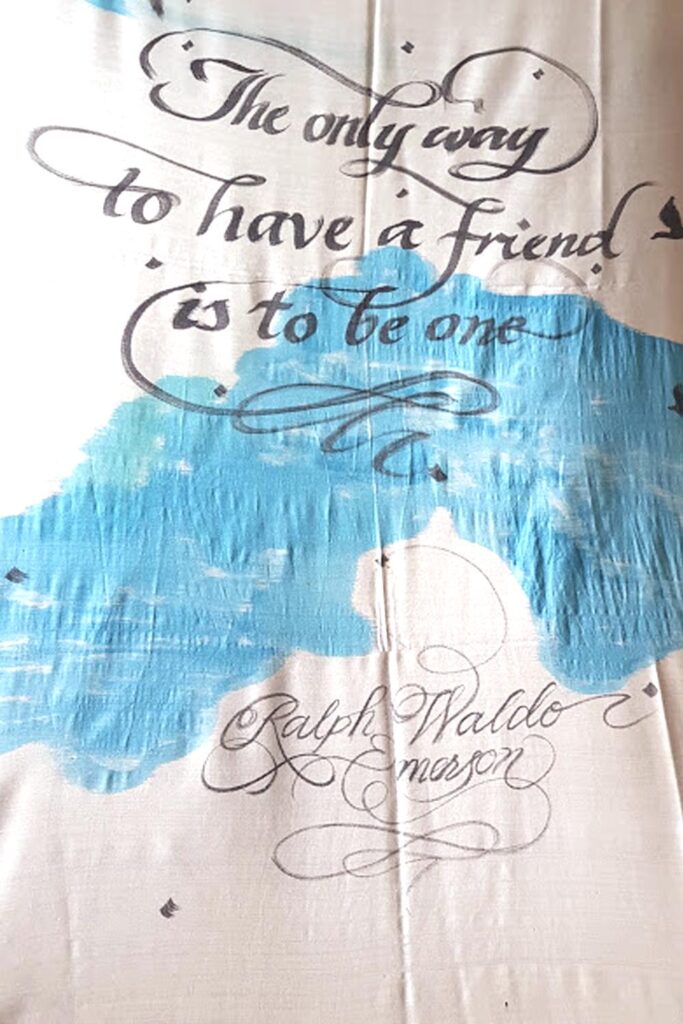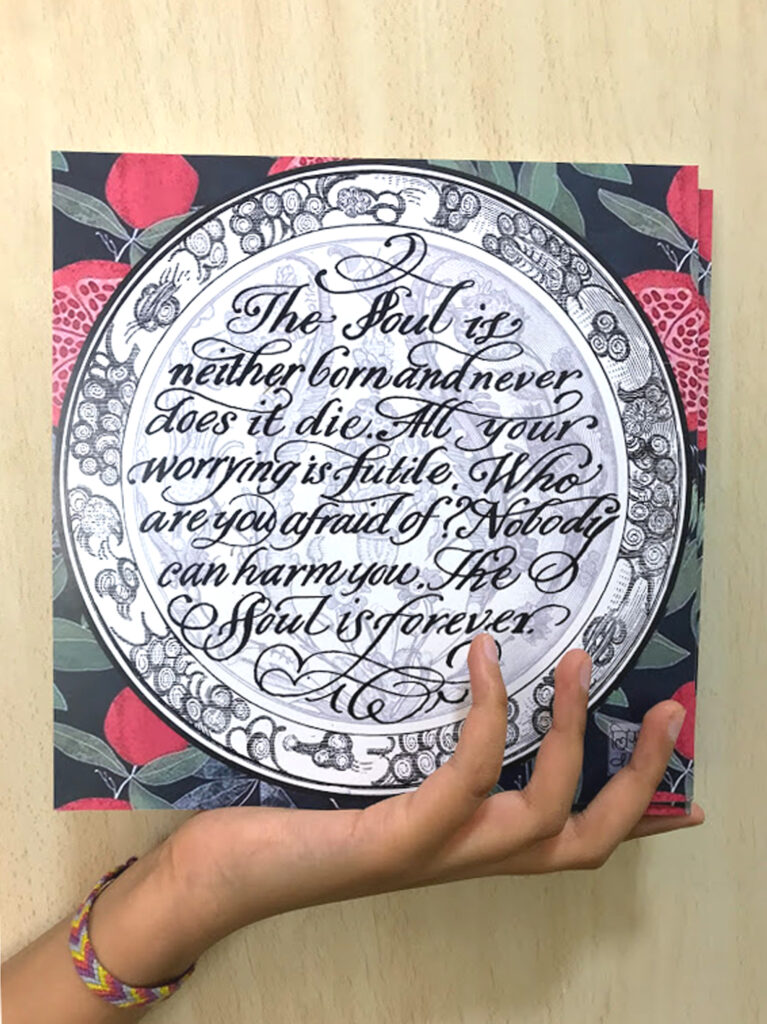 Copper Bottles
Copper Water Bottle with modern Calligraphy Art – Printed. Outside Lacquer Coated Bottle, Joint Less, Leak Proof. Good for Travel, Yoga Ayurveda Healing, Gym Bottle 1 Ltr.
Health benefits of using copper bottle for drinking water – enhances digestion, stops growth of harmful bacteria, helps boost immune system, enhances haemoglobin synthesis, strengthens bones and slows ageing.
Care instructions: fill with warm water & a little bit of any gentle detergent, cap it and shake vigorously. Rinse, dry and re-use. 
Hats
Whether you donn them for warmth or style, this crown can be prettified to your own description. Service available on request.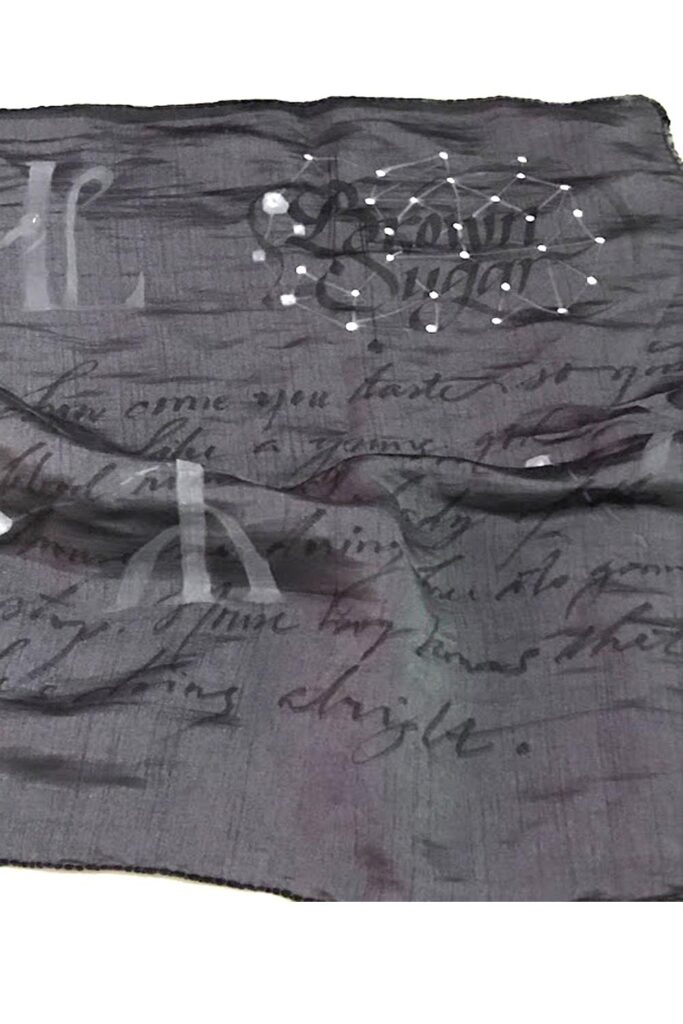 Cravats / Pocket Squares
Cravats / Pocket Squares: Demand a funky hand-painted piece and reform your outfit in a subtle but effective way, effortlessly! Service available on request.